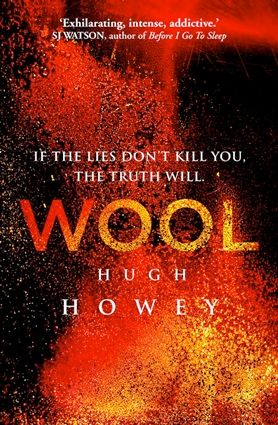 Summary:
In a post-apocalyptic waste land, the only safe place to live is in the Silo. The world outside will kill you in minutes. The rules of the Silo need to be followed to maintain order. Rule breakers are simply sent outside, an efficient punishment - discord is removed and the cameras outside are cleaned. Jules is one of these rule breakers, she has questions, and she may be the most dangerous person there is.
My Thoughts:
This was one of my most anticipated books of this year! I waited for the paperback to be released and immediately dove into the pages.
The world building in this is absolutely amazing! The Silo feels like a real place filled with real (for the most part) characters. The descriptions inside the Silo made it feel fully fleshed out and a place I could imagine. Only one or two of the characters felt a little one-dimensional but on the whole they were complex and felt like actual people.
It did take me some time to get through, I've been reading quite a bit of young-adult at the minute so it was refreshing to get back into a book so densely packed with words and storyline. The plot is as many layered as the Silo in some places. People's motivations and actions are not always as you expect and people's loyalties can and do switch.
I loved Jules as a lead character. She was strong and utterly competent, sure of her convictions even when she wasn't sure of her actions. Her reactions felt real and believable, even when placed into some truly horrifying situations. I think she's one of my favourite leads that I've read in quite some time.
Again, I loved the descriptions of the world outside. I want to know more about it! I love a good description of a devastated environment and this teased me with just enough to keep me happy!
I'm planning on reading the rest of this trilogy as soon as the paperbacks appear. The next part is out in hardback already so I may just cave and buy the Kindle edition!
Rating: