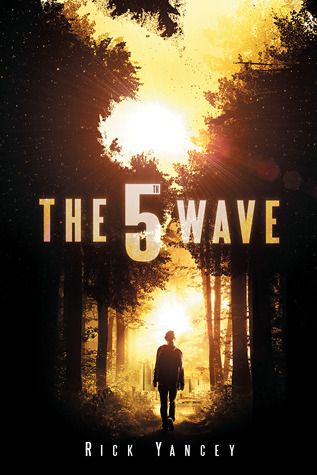 Summary:
Only the unlucky survive. Humanity has been wiped out by aliens in 4 successive waves, and the 5th wave is still to come. We meet Cassie who has survived all 4 waves, she's learned to trust no one and that has served her well so far. She meets Evan Walker after being injured but can she trust him?
My Thoughts:
Well, this was one of the most hyped books from earlier this year. I was looking forward to getting it read but nervous as well, in case it didn't live up to the hype. So I grabbed it as soon as I saw it on the shelves and jumped into it as soon as I could.
I loved how real the characters feel in this book. Cassie is a teenager and is still fairly naive at the start of this, even with all that has happened. She's forced to grow up very quickly and she becomes someone much stronger. She's faced with some awful choices and she recognises that any choice she takes can result in a horrible outcome. Yet she still has the courage to do what she needs to do. Through this book, Cassie became one of my favourite lead characters. She's strong yet absolutely not perfect.
This story is told through multiple points of view. This generally works quite well but a few of the male characters seemed to flow into each other until we got to know them a little better. People get hurt in this, kids get hurt in this and they remain hurt. Being injured effects their actions later on and I really did appreciate that. No super fast healing or hand waving. Bullet wounds take time to heal.
There are so many twists and turns. You think you know what's going on and with who, but then it twists and twists again and by the end I had no idea who's side anyone was on and I loved it. I didn't want to have guessed the answers straight away, I liked that people remain ambiguous until the end. I couldn't read the last quarter or so of this book fast enough, I couldn't get the words into my head and absorbed fast enough for me to be satisfied. I wanted more when it was over.
But the 5th wave, the truth behind the 5th wave is utterly horrifying.
Loved it, will be buying the second book the minute it appears and I will hide for two days while I read it.
Rating: