I really enjoy watching everyone's monthly reading wrap ups on Youtube and I thought it would be a fun thing to do on my blog as well!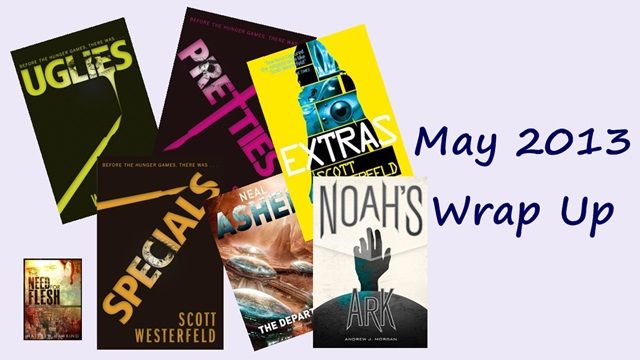 I had such a good reading month this month, managing a total of 7 books! Five of those were paperback and two were on my Kindle. I actually had a slow start to the month but picked up pace a week or so in.
-Uglies by Scott Westerfeld - my first finish this month, I enjoyed the world that he created and found it to be a pretty easy read.
-Pretties by Scott Westerfeld - I quickly moved on to the next in the series and devoured it in a couple of days. This was another easy read that I really enjoyed.
-Specials by Scott Westerfeld - I don't normally go through a trilogy so quickly so I was getting a little book fatigue by the end of this! Still, it was every bit as good as the other two in the series.
-The Need For Flesh by Matthew Hawking - this was a free at the time download from Amazon. It wasn't that long and I read it over a bus trip. It only rated one star, it might have been better if it felt like it had actually been edited before being released.
-The Departure by Neal Asher - this took my most of the month to work through, it's brutal and violent and took me quite some time to get into. A much better second half helped me finish.
-Extras by Scott Westerfeld - not quite as good as the other three of the series, I'm not sure this really adds anything essential to the overall plot of the Uglies series even though we're seeing the world after the events of Specials.
-Noah's Ark by Andrew Morgan - the last book I read this month (I finished it at about 11pm last night!) and the first book I received for review. A pretty good first half and a mind bendingly twisty plot!
What have you read this month? Any suggestions for me to add?